Although it may be premature to perform last rites on insurance exchanges created under the Affordable Care Act (ACA), it's fair to say that they are on life support in many states.
"We continue to see a decline in issuer participation in the health insurance exchanges, leaving consumers with fewer and fewer insurance options," Seema Verma, administrator of the federal Centers for Medicare & Medicaid Services, said in a report issued in late July. "I am deeply concerned about the crisis situation facing the individual market in many states across the nation."
The agency projects that residents of 49 counties will have no options to choose from when they try to enroll in a plan through an exchange for 2018. Another 2.4 million exchange participants in 1,300 counties may have only one carrier option next year, according to the report (see chart on page 15).
Related: Don't sabotage ACA, Americans say: Poll
"My fear is that regardless of what Congress does, it will be to the detriment of the carriers," says Fred Joyner, owner of Carolina Benefit Administrators in Winston-Salem, North Carolina. "There are very few already, and I'm concerned that regardless of what happens, carries will decide it's not worth it and bail out."
The Heritage Foundation, a conservative think-tank in Washington, D.C., says the reduction in the number of carriers continues a pattern that started with the inception of the ACA:
"One of the stated aims of the ACA was to increase competition among health insurance companies. That goal has not been realized, and by several different measures, the ACA's exchanges offer less competition and choice in 2017 than ever before. Now in the fourth year of operation, the exchanges continue to be far less competitive than the individual health insurance market was before the ACA's implementation. Moreover, insurer participation in the law's government-run exchanges has declined over the past two years and is now at the lowest level yet. This lack of insurer participation leaves exchange customers in 70 percent of U.S. counties with no insurer choice, or a choice between merely two insurers."
Clouded crystal ball
Trying to project the fate of the exchanges in 2018 and beyond is like peering into a kaleidoscope. The picture can change as quickly as it comes into focus. Republicans ran in 2016 on a platform of repealing and replacing the ACA. When all was said and done, however, much more was said than done.
In late July, the Senate voted against what was termed the "skinny repeal." This bill would have permanently ended the individual coverage mandate and its employer mandate for eight years. It also would have given states flexibility to opt out of some Obamacare regulations, defunded Planned Parenthood for a year, repealed the medical device tax for three years and allowed more pre-tax money to pay for health savings accounts.
Now what? Many states face a situation similar to the one in North Carolina.
"Right now in North Carolina, we have one carrier: Blue Cross Blue Shield," Joyner says.
"Cigna has carved out about three or four counties around Raleigh, but our state has 100 counties.
"Prices are escalating. Blue Cross Blue Shield filed for 20 percent to 30 percent rate increases for 2018, citing instability and uncertainty. They have lost millions of dollars in the past several years, mainly because they are attracting less-than-healthy people. Young, healthy people are not buying into it and instead are opting not to buy coverage or buy gap-type products."
Although short-term medical plans don't meet the ACA requirements, they are popular options. Some healthy consumers find that the combined cost of these policies and the fine for not buying insurance under the ACA is still less than the price of approved plans offered on the exchanges, Joyner says. He expects the Department of Health and Human Services in the next several months to expand the current limit of 90 days for these plans. Overall, however, "choices for agents and consumers are very limited in North Carolina," he says.
Things are not any rosier in Wisconsin.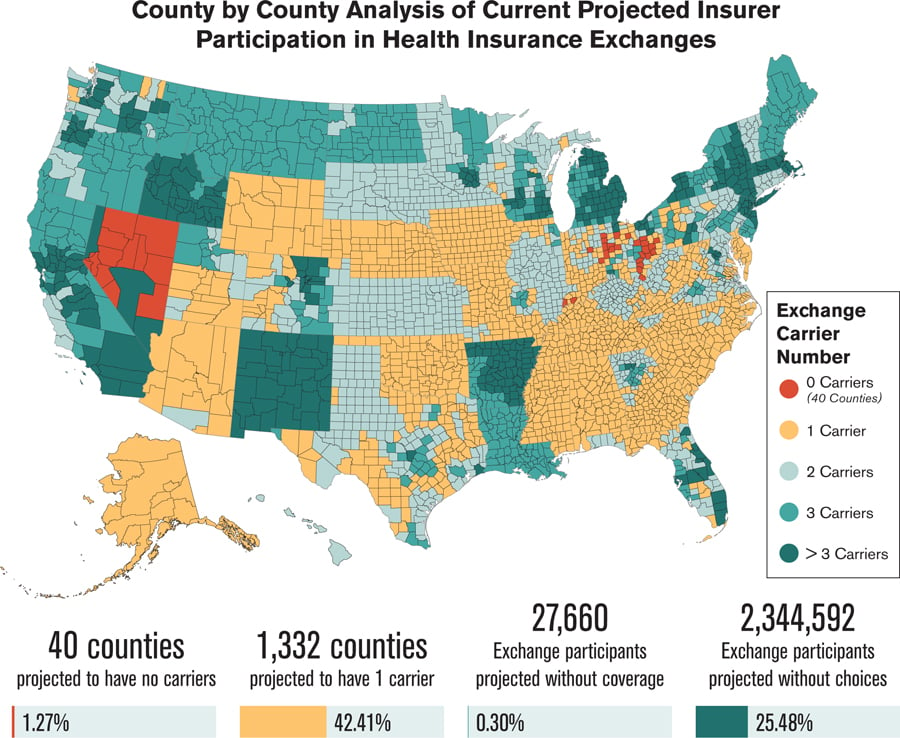 "We really don't have any private exchange markets," says Terry Frett, senior benefits consultant for R&R Insurance in Waukesha, Wisconsin. "The carriers have left them, so they have defaulted to public exchanges. Anthem and Blue Cross and Blue Shield say they are going to withdraw next year. Humana and Pulse pulled out last year, and UnitedHealthcare the year before that."
This attrition has been frustrating for brokers and consumers alike. "Most of the people whom we facilitate for individual insurance retired early and are not yet eligible for Medicare," Frett says. "Their choice of plans keeps shrinking. Quite a few have gone from United to Humana to Blue Cross."
Related: 5 best and worst states for health care
One bright spot in Wisconsin is the presence of regional carriers, as health care providers can also be insurance organizations. For example, one health plan offered in Milwaukee County is a collaboration between a local medical school and Ascension Health Alliance in St. Louis.
"Our state is divided into 26 territories for buying health insurance," Frett says. "In 2018, Milwaukee Country will only have four carriers. Three of the four have never sold before except to Medicare beneficiaries. Now they are moving into the individual market and will target the most-subsidized populations."
Soaring costs
The problems plaguing exchange plans are two-pronged. Along with a number of carriers pulling out, the ones that remain have filed for significant premium increases. eHealth, an online exchange in Mountain View, California, estimates that 2018 rate increases will make health insurance unaffordable for 29 percent of individuals and 54 percent of families who purchased insurance on exchanges this year. (The ACA considers a plan unaffordable if the lowest-cost plan available costs more than 8.13 percent of the insured's adjusted gross income.)
Researchers arrived at these percentages based on estimates by Oliver Wyman Health, which projects rate increases ranging from 28 percent to 40 percent next year.
"What we're seeing now in Obamacare is death-spiral pricing, and in many states, only the heavily subsidized will be able to afford coverage in 2018," says Scott Flanders, CEO of eHealth. "Obamacare made real improvements in the individual health insurance market by increasing access to health care for millions of Americans, but it has proven to be a deeply flawed piece of legislation that needs to be repaired or replaced in order to help people stay covered."
Put clients first
This bleak outlook creates challenges not only for consumers, but also for brokers. How can insurance professionals best serve clients who look to them for answers when there may not be any good ones?
First, plan for the status quo in 2018 instead of any major changes to the ACA. "The absolute earliest anything could change in the individual market is 2019," Frett says. "We are too far gone now. Carriers have already had to file rates, which would make change impossible for 2018."
The status quo is not good news for a broker's income stream, Joyner says.
"I tell brokers and agents across two states that even if Obamacare remains in place for the next two or three years, the compensation that agents are receiving for marketing Obamacare plans is very small in comparison to the effort it takes to assist consumers through the exchanges," he says. "What we have been suggesting is to be proactive and take advantage of ancillary products to supplement your income. Look at fixed indemnity-type products, where the policy pays 'X' amount for a hospital stay or office visit."
Educating and servicing current clients is the top priority at R&R Insurance in Wisconsin.
"It becomes very challenging," Frett says. "Our focus in on taking care of our current clients. We are not looking to write business with new clients. There is still a huge disconnect among consumers. They will call and ask for a quote on health insurance. I have to tell them, 'you can't just sign up anytime you want, but only during open enrollment. It's not like buying auto insurance.'
"My advice is to take care of your immediate clients first. We are being proactive by sending them educational information so they will know what is happening this year. The three most important reminders are that open enrollment will be during a compressed time period this year; that the policy they have in 2018 will not be the same one that they have this year; and that they can expect a minimum 20 percent rate increase."
2018 is an election year, so it's always possible that Congress will act to fix the ACA and problems plaguing the exchanges. Brokers such as Joyner, however, are planning ahead as if nothing will change.
"Some agents are throwing up their hands and saying they are going back to selling things such as life insurance, investments and estate planning," he said. "I can't blame them at this point. Whether it will ever come back to where it was before Obamacare is hard to say."