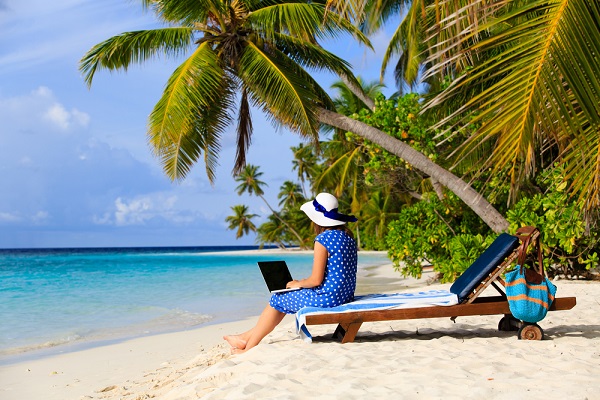 Vacation is supposed to be about leaving the cares of office behind so that one can replenish one's spirit – but millions of Americans just can't stop from staying plugged in, according to Project: Time Off's report, The Tethered Vacation.
"Technology has permanently changed the American workplace — and there is no turning back," the authors write. "But have these changes — and always-connected employees — begun to hurt American companies?"
Related: Technology, work-life balance top factors in worker happiness
Project: Time Off surveyed 2,598 employees who are able to access work remotely, and found that only about a quarter (27 percent) of employees actually unplug. Most employees are checking in occasionally (46 percent) or frequently (27 percent). Even accounting for those who do unplug, the overwhelming majority (78 percent) want the ability to access work if they choose to.
Gen X is actually the least likely to unplug on vacation (23 percent compared to 28 percent of Millennials) and feel more comfortable taking time off knowing they can connect to work (82 percent, compared to 77 percent of Millennials).
"By failing to establish boundaries around work, companies are unintentionally sending the message that they do not respect employees' time off," the authors write. "This undermines efforts to create and sustain an engaged, motivated workforce."
Eight in ten (79 percent) employees who are leaving their current job due to poor company culture say that paid time off is "extremely" or "very" important in their next job. Vacation is also the second-most important benefit after health care, ahead of flexible work arrangements, retirement plans, and even bonuses.
Cultures that support unplugging have employees that are more engaged and more likely to report feeling that their employer cares about them as a person (64 percent to 43 percent) and that their job is important (73 percent to 57 percent). Forty percent of employees in cultures that do not support unplugging are looking or planning to look for a new job in the next year. Just 21 percent of employees in supportive cultures say the same.
"Creating an environment where employees feel supported in leaving the office behind will ultimately foster an engaged workforce that feels valued, motivated, and committed—all of which have a lasting impact," the authors conclude.
HR Dive writes that, by not taking time away from work, employees forfeit time to regroup and refresh.
"Tired workers become stressed out workers who are vulnerable to health problems, leading to absenteeism and lower productivity that impacts both employer and employee," HR Dive writes.
Mandatory vacation periods might be a way for some employers to "kickstart a culture that is more respectful toward taking proper time off."
"As with most solutions, the best way to start may be asking employees what they are looking for out of a paid time off plan," HR Dive writes.