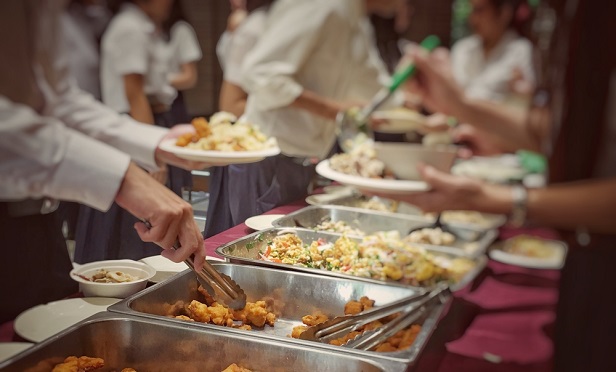 Millions of American workers likely wish that they had healthy, low-cost meals available at work. It might relieve them of the burden of planning and making lunches to bring to work or, even worse, resorting to expensive or unhealthy takeout.
However, some local leaders in San Francisco don't like that many of the tech firms in town offer free or reduced meals to their workers. Two members of the city's Board of Supervisors have proposed banning workplaces from including industrial-style kitchens on their premises.
Related: Food: The quickest way to an employee's heart?
The proposed prohibition would only block new on-site cafeterias. It would not outlaw the 51 cafeterias that already exist at companies in the city.
There is already a precedent for such a policy. Nearby Mountain View, California, where Facebook and Google are headquartered, recently put in place an ordinance that barred Facebook's new 2,000-employee offices from including free food.
In both cities, the measures are prompted by concerns from restaurants, whose owners say that the tech giants are undercutting their business by offering employees a deal they can't compete with during the lunch hour.
One of the measure's backers in San Francisco, Supervisor Ahsha Safai, described the proposal as breaking down barriers between the tech community and the rest of city residents.
"This is also about a cultural shift," she told the San Francisco Chronicle. "We don't want employees biking or driving into their office, staying there all day long and going home. This is about getting people out of their office, interacting with the community and adding to the vibrancy of the community."
Free transportation (chartered buses, for instance) and on-site food are both examples of workplace perks that tech firms have used to attract and retain employees by easing (or eliminating) some of the typical burdens of the conventional American workplace. Tech firms have framed such perks as indicative of a workplace culture that looks after employees' well-being.
However, those perks that are made in the name of employee welfare also generate resentment from other residents, who see them as means of segregating the well-paid tech workers from the rest of the community. Underpinning that frustration is the link between the tech economy and the soaring cost of living in the Bay Area. In San Francisco, for instance, the median home value is now $1.3 million.