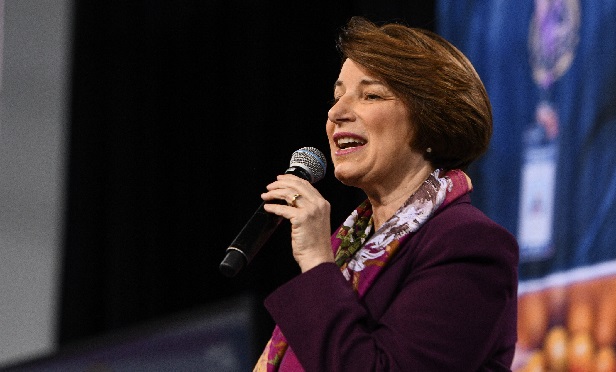 Democratic presidential candidate Amy Klobuchar, D-MN, has unveiled a plan to combat mental illness and substance abuse to the tune of some $100 billion over a decade.
The Associated Press reports that the ambitious plan includes funding for numerous features, including early intervention in cases of mental health disorders and drug use as well as a national suicide prevention campaign, better access to treatment for opioid addiction and other care, in addition to recruitment of health care workers to underserved rural areas and cities with the highest need.
Klobuchar also intends, should she become president, to approach the whole issue differently, prioritizing prioritize mental health and substance abuse treatment over incarceration for nonviolent offenders. In her announcement she pointed out that when she was lead prosecutor in Minnesota's largest county, she supported drug courts as an alternative to jail.
Related: Medicare for All: Where the 2020 presidential candidates stand
The effect on her life of her father's alcoholism has colored her approach to the whole substance abuse issue, with "real treatment" making the difference for her father after his third DUI arrest. He has been sober since.
"The one thing I hear over and over again across the country is people's stories of battling with mental health and addiction—people need help, but they just can't get it," Klobuchar said. "I believe everyone should have the same opportunity my dad had to be pursued by grace and get the treatment and help they need."
Targeted suicide prevention campaigns for veterans, LGBTQ people, farmers and tribal communities are part of the proposal, as is better enforcement of laws requiring insurers to provide similar coverage of mental health issues and substance abuse problems to the way physical illnesses are covered. Also included would be access to medication-assisted treatment in federal and state prisons.
Where would the $100 billion come from? Chiefly opioid manufacturers, since Klobuchar says they should be held accountable for having created the crisis in the first place. The plan would provide considerably more funding than other efforts—the opioid bill Trump signed in 2018 provides a far smaller sum of $6 billion over two years.
However, the proposal also relies on a settlement that hasn't yet been reached—she proposes "a master settlement agreement between the drugmakers and state and local governments that have sued them," according to AP, an effort that recalls the 1998 tobacco settlement—as well as new legislation that hasn't yet been passed.
The proposal would impose a new fee of 2 cents per milligram of the active ingredient in a prescription pain pill, which Klobuchar intends to be paid by the manufacturer or the importer and provide a permanent revenue stream for the effort. An earlier and similar funding proposal in New York was met with stiff resistance from the pharmaceutical industry, which said it would make treatment more expensive for consumers.
Read more: