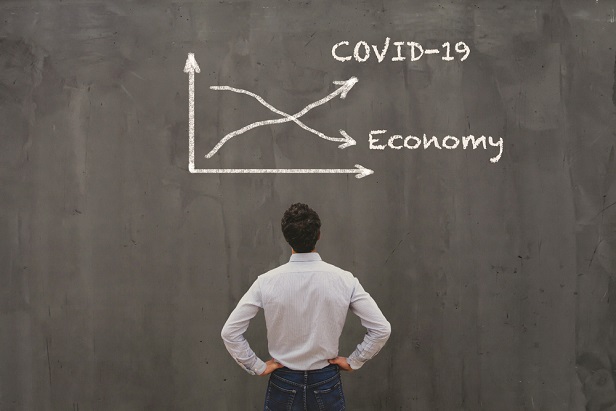 Another potential fallout from the coronavirus outbreak: people are increasingly concerned about the financial implications if they have to miss work due to illness or general quarantines, according to new research released by Prudential.
Morning Consult surveyed more than 4,200 adults on behalf of Prudential, and found that 43 percent say they are concerned they will personally contract coronavirus, and 45 percent are concerned about an outbreak that requires quarantines and limits their ability to work for several weeks. If that were to happen, 54 percent say they are not prepared financially to handle that much-missed work.
Related: What to know about coronavirus and employment law
While many companies are upping their work-from-home policies or relaxing sick leave, that's not an option for everyone. "Consider service, factory and warehouse workers, many of whom have limited sick days and can't work from home," says Jamie Kalamarides, president of Prudential Group Insurance. "Heightened concern over the impact of the coronavirus really shines a light on the need for increased emergency savings across America."
Moreover, 52 percent say they are not well prepared financially for an unexpected accident or health crisis that requires them or a member of their household to be hospitalized for several weeks. Some respondents are preparing: 25 percent say they are considering buying disability insurance as a result of the coronavirus outbreak, while a similar number are considering buying more life insurance.
"Even for those who can work from home, the goal is to become healthy and return to productivity, which requires disconnecting from our 'always on' work environments," Kalamarides says. "This is where income protection like short-term disability, critical illness and hospital indemnity insurance becomes crucial to helping individuals offset lost pay or out-of-pocket medical expenses."
Nearly half (45 percent) of the survey respondents say they are concerned over potential losses in their investment or retirement accounts, up 13 percentage points from the beginning of this week. Twenty-eight percent are rethinking their investment and retirement savings plans.
"Uncertainties in the wake of crises like the coronavirus underscore the need for preparedness, emergency savings and income protection," Kalamarides says. "Employers can play a critical role in not just making these options available to employees, but also in making sure employees know they are available."
Employers can also help keep workers informed about coronavirus updates and how to best prepare, as 45 percent of the respondents say they trust their employers as much as they trust the news media for such information.
"Communication is key," says Prudential's chief medical officer Dr. Sharon Smith, who advises employers to prepare for their workers' needs and questions, and regularly communicate consistent and accurate messages about the organization's business continuation plans and quarantine procedures.
However, 38 percent of the respondents say their employer has not taken any action in response to the coronavirus outbreak. For those who employer has done something, actions include encouraging workers to wash their hands regularly (24 percent); requiring sick employees to stay home (22 percent); distributing hand sanitizer (19 percent); and encouraging employees to clean their desks and workspaces more often (17 percent).
Read more: