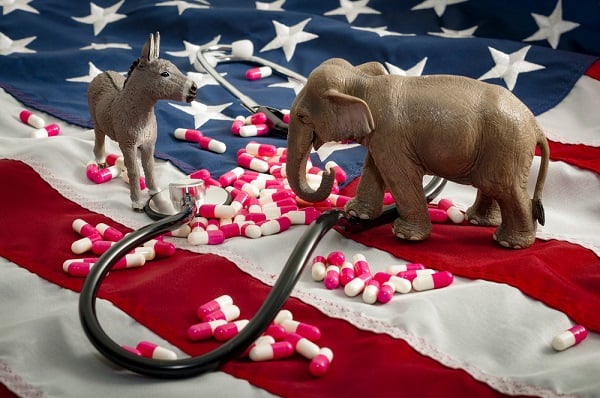 Health care policy, already an area of weakness for Republicans, may become an even greater liability for the GOP as the COVID-19 coronavirus spreads.
The prospect of a global pandemic has Democrats across the country calling for expanded public health care services.
In the 14 states that have still not expanded Medicaid as part of the Affordable Care Act, Democrats are hoping the coronavirus can finally convince Republican leaders to accept the federal funds and provide access to all of those under 138 percent of the federal poverty line.
Related: Medicaid expansion created haves and have-nots among states
In a column in the Houston Chronicle, Andrew White, a 2018 Democratic candidate for governor, implored Gov. Greg Abbott to consider the unique risk associated with Texas's largest-in-the-nation uninsured population.
"In the past, Gov. Abbott has reasoned that Obamacare is a 'massive expansion of an already broken and bloated Medicaid program' and refused to accept billions of federal dollars for our state. His rationale is no longer relevant. The potential cost of managing the largest uninsured population in the nation — during a pandemic that could last for months — requires Medicaid expansion," wrote White.
Democratic members of Congress from Florida, the second-largest state that hasn't expanded Medicaid, made a similar plea to Gov. Ron DeSantis.
"Expanding access to Medicaid to Floridians is one of the best ways to address COVID-19 and future epidemics head-on," said Rep. Donna Shalala, who served as Secretary of Health and Human Services in the Clinton administration. "When people have access to affordable health care, they are more likely to go to the doctor when they feel ill and less likely to get others sick.
In Kansas, the Republican leader of the State Senate, Jim Denning, formerly an opponent of expansion, has become a major champion of the policy and is working with the state's Democratic governor to get it through the legislature. His support pre-dates the coronavirus crisis, but the epidemic may help get the bill across the line.
President Trump and Congressional Republicans have been on the defensive on health care policy ever since they tried and failed to repeal the Affordable Care Act nearly three years ago. Many Democrats who flipped GOP seats in 2018 focused heavily on health care during their campaigns.
Related: