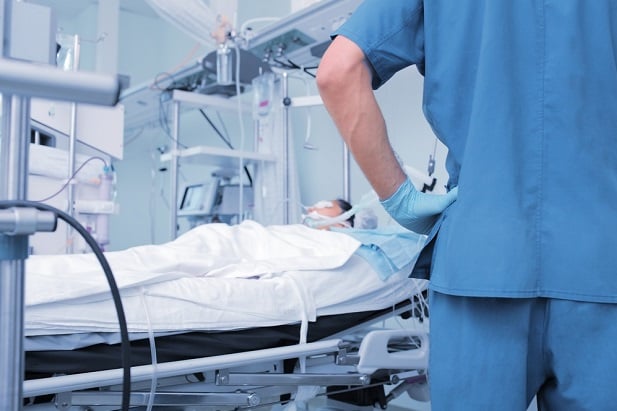 UPDATE: On April 5, executives at Alteon Health announced they had reconsidered and would not be going through with planned cuts to pay and staffing for doctors and medical workers, though it would defer matching 401(k) contributions, and executives would take a 25 percent pay cut.
Seems counterintuitive, doesn't it? Cutting the pay and benefits for people engaged in trying to save lives while they're actually working on it in the midst of a pandemic?
Apparently not to medical staffing firm Alteon Health, owned by private equity firm Frazier Healthcare Partners. ProPublica reports that in a memo, Alteon notified its emergency room doctors and nurses, many of whom are tending coronavirus patients, that their hours would be cut and that it would be suspending 401(k) matches, bonuses and paid time off and that administrative employees would see pay cuts of 20 percent.
Related: Hospitals will see infusion of cash from coronavirus relief bill
In a follow-up memo sent the next day to salaried physicians, Alteon also said it would be converting everyone to hourly pay (after the previous notice about cuts in hours, so presumably the doctors would be included in the pay cuts). While the cuts were characterized as temporary, no indication was given as to when the situation might change.
The memo reportedly directed employees unhappy with the new arrangements to contact the HR department to "to discuss alternatives," though it gave no details on what those might include.
Most ER providers, according to the report, work for such staffing companies, which have contracts with hospitals. However, as elective procedures are being postponed and patients who don't have coronavirus are staying away from emergency rooms, and as health insurers process claims more slowly as they learn to work remotely, staffing companies are losing revenue.
And according to Steve Holtzclaw, CEO of Alteon Health, other firms will follow his lead with pay and benefits cuts. While that's not the case across the board—TeamHealth told ProPublica that "We are not instituting any reduction in pay or benefits. This is despite incurring significant cost for staffing in anticipation of surging volumes, costs related to quarantined and sick physicians, and costs for PPE as we work hard to protect our clinicians from the virus."
But Holtzclaw says that in conversations with heads at other staffing firms, it's on its way: "You can be assured that similar measures are being contemplated within these organizations and will likely be implemented in the coming weeks."
According to Stat, however, Holtzclaw may simply be on the leading edge. It cites a Boston Globe report that said that more than 1,100 clinicians and staff for the Massachusetts company Atrius Health will be getting pay cuts, and doctors at hospitals including Beth Israel Deaconess Medical Center were told their accrued pay would be held back, as well as a Salt Lake Tribune report that Intermountain Healthcare, Utah's largest health provider, has said that its clinicians would also get pay cuts.
Stat also noted that Tenet Healthcare, which staffs hospitals and urgent care clinics, "including clusters in Detroit and Los Angeles," has confirmed that it too intends to postpone matching funds for employee retirement contributions.
ProPublica points out that many doctors' practices have been acquired by private equity investors, citing a JAMA study, and adds that "staffing companies have also been implicated in the controversy over 'surprise billing.'"
Hospital operators are also cutting compensation and benefits, or even furloughing staff.
Somehow a pay cut right about now doesn't seem like quite the thing to do. One Alteon clinician expressed a common sentiment: "It's completely demoralizing. At this time, of all times, we're putting ourselves at risk but also putting our families at risk."
The clinician added that many doctors and nurses are already going above and beyond by living apart from their families to protect them, and said, "A lot of sacrifices are being made on the front line that the administration is not seeing because they're not stepping foot in a hospital. I've completely lost trust with this company."
Read more: