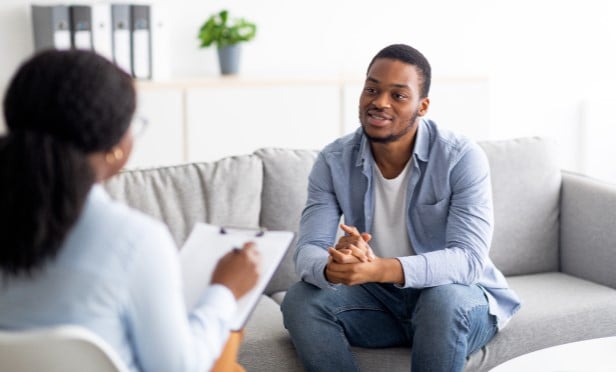 The busyness of daily life can make it easy to put your mental health on the back burner, especially at work.
Traditionally, discussing mental health in the workplace was often seen as taboo or low priority.
However, as the workforce evolves, more businesses are breaking the stigma around mental health by building a culture of openness and inclusion.
Creating this culture is important because it allows employees to speak more freely about their mental health with confidence knowing their employer is on their side. Not to mention the added benefit of employee retention for organizations, as 42% of employees claimed they were more likely to stay at their jobs if they were offered mental health benefits.
Take a look at these mental health employee benefits trends you should offer to give your employees the support they need.
Include Mental Health Coverage in Your Healthcare Plan
Given that many employees struggle to navigate their health benefits, choosing a plan that not only includes mental health coverage but celebrates its accessibility may be an attractive incentive to recruit new talent and support existing employees.
Offer an Employee Assistance Program (EAP)
EAPs offer an outlet for employees to discuss personal or work-related issues in a judgment-free environment. Typically, EAPs are monitored by a third-party provider, so employees have added peace of mind knowing the counsel they receive is unbiased.
Use HSA/FSA Funds for Mental Health Treatment
By offering a high-deductible health plan with a Health Savings Account (HSA) or Flexible Spending Account (FSA), employees can utilize pre-tax dollars to cover copays for mental health treatment and prescription medications.
Support Telehealth Counseling
With more employees working from home, many enjoy connecting with their healthcare professionals in the comfort of their own homes. Telehealth counseling also helps eliminate barriers proposed by in-person treatment for those employees who may struggle to find transportation or the right therapist for them in their area.
Strength-Based Training Programs
Additional support may lie in in-office and virtual training programs for stress management, crisis management and resiliency. These programs are designed to give employees a sense of empowerment through practical training opportunities designed to help them address the challenges they face at work and beyond.
Take employees' mental health seriously
Your mental health is just as important as your physical health. When employees feel that their mental health is taken seriously, they are more likely to feel comfortable discussing their mental health openly in the workplace.
Open and honest discussions of mental health coupled with the right mental health benefits can lead to more productive, connected teams and ultimately happier and healthier employees.
Clarity Benefit Solutions is dedicated to promoting a culture of health by simplifying the employee benefits process. From our Broker Hotline to our suite of Simply Smarter solutions, contact us today to see how we can help make the best of your employee benefits.