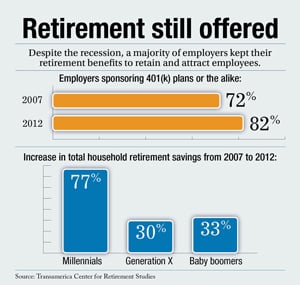 Despite the Great Recession, the vast majority of employers kept their retirement benefits intact as a way to attract and retain employees, according to a new white paper by the Transamerica Center for Retirement Studies.
Even though many companies cut budgets or downsized after 2007, the percentage of employers sponsoring 401(k) or similar plans increased from 72 percent in 2007 to 82 percent in 2012. The increase was mostly attributable to companies with 10 to 499 employees, authors of the paper found.
Throughout the Recession, of workers who were offered a 401(k) or similar plan, 77 percent participated, and in 2012, annual salary deferral rates returned to their 2007 level of 7 percent after dipping to 6 percent in 2009/10 and 2011.
Workers reported significant increases in total household retirement savings between 2007 and 2012 with Millennials' total savings in household retirement accounts estimated at $15,213 in 2012 compared to $8,615 in 2007. Generation X had a median account balance of $41,821 in 2012, compared to $32,106 in 2007; and Baby Boomers had balances of $99,320 in 2012 compared to $74,781 in 2007.
The generation with the highest increase in total household retirement savings between 2007 and 2012 was the Echo Boomers or Millennials at 77 percent. Generation X had an increase of 30 percent and Baby Boomers saw an increase of 33 percent.
Despite gains in total household retirement savings in the past five years, the level of savings is still inadequate for many workers to meet their future retirement income needs, the report found. Retirement confidence has continued to suffer, dropping from 59 percent in 2007 to 51 percent in 2012.