"Buggy whip manufacturer" has long been shorthand for a once-common job that is now obsolete. Much more recent jobs, such as mail carrier, logger and newspaper reporter, may be headed in the same direction.
In fact, mail carrier is the most endangered position in the United States, according to the CareerCast Jobs Rated report for 2014. The profession came in dead last out of 200 careers examined, with an expected employment decline of 22 percent by 2022. Of course, current carriers are not affected, and the National Association of Letter Carriers has a pension fund surplus of $25 billion.
See also: Top 10 best (and worst) jobs
The move from paper to electronics is a common theme in many projected job losses. For example, newspaper reporters face a 13 percent decline in coming years, in large part because advertisers have cut their print budgets by nearly 30 percent in the last five years.
Likewise, the logging industry is feeling the impact of the move from print to digital. Significantly lower demand for paper means much less need for wood pulp that lumberjacks help provide. The result is a 9 percent decline in logging industry employment.
See also: And the best job in America is …
Technology is making other careers, such as meter reader, obsolete. Many gas and electric companies are installing electronic meter readers that instantly provide usage updates, which will cause a job decline of 19 percent by 2022. Farming also is taking a hit, with technology enabling farmers to produce more food with less labor.
Following are the most endangered jobs, along with the salary and projected decline by 2022.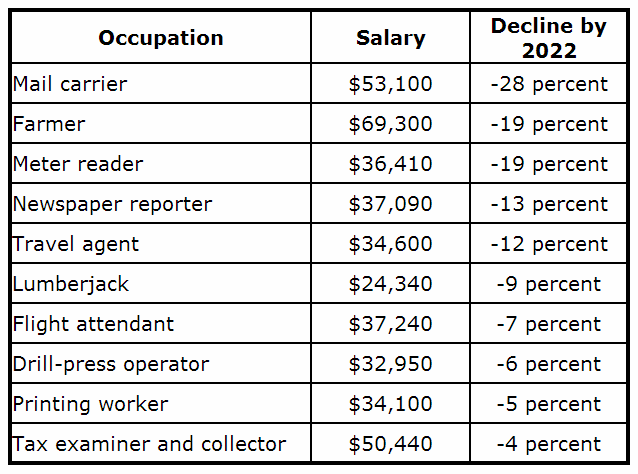 See also: