It's that time again to tell you, in a series of articles, about our voluntary market sales results. To sum it up, it's good news: The industry had another solid year.
According to our annual U.S. Voluntary/Worksite Sales Report, new business annualized premium (voluntary sales) was $6.644 billion in 2013, which represents an increase over 2012.
See also: Driving voluntary sales
However, due to several new companies and other companies changing the way they report voluntary sales, it was difficult to determine the actual percentage increase. Using just those companies that were in the study both years and had the same reporting methodology, we estimate the increase over 2012 to be about 4.3 percent. The following graph shows the industry's sales since 1998.
The top 15 carriers accounted for approximately 79 percent of total voluntary sales in 2013. All but two had annual increases, with the largest increase being 49 percent. The average increase was 8 percent.
See also: Largest employers account for most voluntary sales
Takeovers — business that moves from one voluntary carrier to another — continue to grow, increasing this year to 50 percent from 45 percent in 2012. However, half of all voluntary sales are still virgin business from both new accounts and new products and new covered employees in existing accounts. The highest takeovers were in the group term life and dental lines.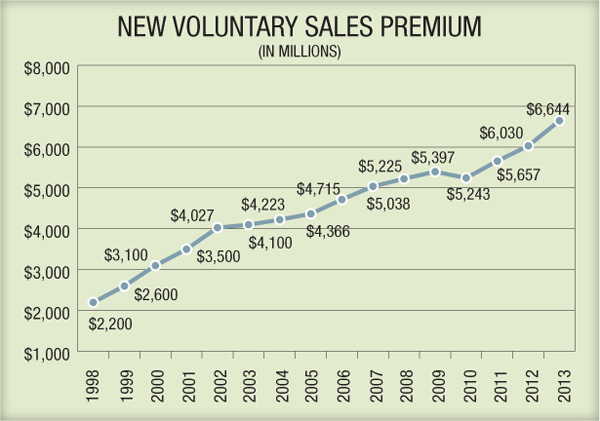 Inforce premium also was up in 2013.
In our next column, we'll review the results by product line and product platform.
See also: Voluntary still has room to move
The annual U.S. Voluntary/Worksite Sales Report is the industry's most comprehensive and reliable source of data on voluntary/worksite sales and inforce premium. This year's study includes data from 1997 through 2013 and detailed results for over 60 carriers. The report is available only to those carriers participating in the survey. For more information about participating in next year's survey, contact us at info@eastbridge.com.