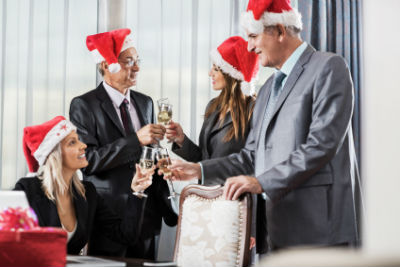 At BCS Communications in Kansas City, a small staff works year-round to provide advertising, public relations and marketing plans to clients. But on one night each December, the office is jammed elbow-to-elbow with employees, spouses, clients, vendors, bartenders, musicians and a celebrity impersonator.
"We have had a party every year since we started the company 12 years ago," said Leigh Ann Cleaver, a partner in the business. "We do it as a way to say thanks to everyone and celebrate what we have accomplished. Building relationships is a huge part of it. We have gotten projects and assignments from the party, but that's not the focus. We want our clients to know they are important to us."
Read: Most employees don't feel respected
The time-honored tradition of corporate Christmas parties (now more frequently called holiday parties) is back. In fact, it never really went away.
"During the recession, we saw a definite drop in corporate holiday parties," said Anna Sekula, editor-in-chief for BizBash, a New York City business that provides print and online resources for corporate party planners. "Our annual survey in 2012 showed an upswing. Employees overwhelmingly say that not having an office holiday party has a negative effect on morale.
"Parties are coming back as a way to show employee appreciation and celebrate with clients and customers."
Survey reveals popularity
BizBash recently teamed up with Seamless to survey more than 1,500 people about trends and expectations for 2014. "The survey was enlightening, as it shows that while corporate planners think they need a bigger budget to give employees what they want, that is not the case this year," said David Adler, founder and CEO of BizBash. "What employees want is the opportunity to wind down with their co-workers and feel appreciated by their company, but they also want the opportunity to give back to the community."
Among the key findings:
Holiday parties are most often held at restaurants and bars that are rented out by companies; event spaces and the office itself also are common venues.
It's most common for holiday work parties to source food from local caterers and restaurants. Full dinners are most popular, though finger food also is a staple. Most companies also pay for alcohol, including open bars or beer and wine.
The biggest company-related investment made by employers is food and drink. (Ninety-nine percent of respondents reported serving food at their get-togethers and 86 percent reported drinks.)
Seventy-five percent of respondents reported better office friendships as a result of past holiday parties.
Seventy-one percent reported an improved office culture.
Sixty-seven percent saw team dynamics improve.
Eighteen percent reported increased productivity.
Contrary to what some planners may believe, it really is the thought that counts.
"One interesting finding was that people don't necessarily want elaborate holiday parties but corporate social consciousness as an element," Sekula said. "You don't necessarily have to spend more money to give back to the community."
Use common sense
So what's the downside? Potential liability issues, said attorney Michelle Haskins of Constangy Brooks & Smith in Kansas City. "An employer may face liability for employee negligence and misconduct whenever the employee is acting within the course and scope of employment," she said.
Company-sponsored recreation is generally within the course and scope of employment if either the employer directly or impliedly endorses the event and might conceivably benefit from it or the employer requires or expects employees to attend. However, most pitfalls can be avoided with through advance planning and common sense.
See: 11 rules for planning a work holiday party
Although holiday parties run the gamut from small gatherings to huge blowouts, Sekula suggests a few dos and don'ts that can benefit any human resources professional.
Things to do:
Photo booths. ""The trend is not going away any time soon," she said. "They are the No. 1 desired activity at holiday parties."
Dinner at restaurants or hotels. More than one-half of survey respondents said their favorite company holiday party was held at a hotel or restaurant.
Charity initiatives. "Employees want to see charitable efforts incorporated in company events, and holiday parties are no different," Sekula said. "Rather than spending on office awards, use the resources to help those in need."
Prizes, dancing and games. People want to have fun.
Things not to do:
Long speeches by the boss. "Leave the work talk in the office," she said. "A party should be a party."
Secret Santa. Don't force gifting on employees.
Cash bars. "Save on décor and even entertainment," Sekula said. "Two or three drinks are better than none."
Potluck dinners: If the holiday party is a way of saying "thank you," then food should be provided. As one survey respondent commented: "Fast food was served for dinner. What better way to give thanks than with food off the dollar menu?"
Keep in mind that for employers, holiday parties are in investment in one evening, but the returns on that investment last well into the coming year. Small touches can go a long way.
"At the end of a long year, employees want to let loose and leave the work in the office," Sekula said. "A good party should always have a personal touch. As one respondent said, 'My favorite memory was taking photos with colleagues at the party and then being surprised on Monday morning with snow globes on each person's desk with their photo.'"
Cleaver agrees.
"So many times, we get caught up in our day-to-day work that we forget to take time and celebrate our accomplishments," she said.