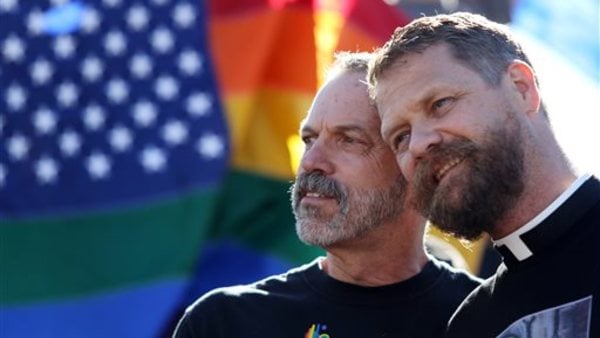 An increasing number of employers are requiring that same-sex partners be married in order for employees' partners to qualify for health care benefits.
That's according to a survey from the International Foundation of Employee Benefit Plans, which tracks the change over the last couple of years.
In findings from its surveys on employee benefits taken since June 2015, when a U.S. Supreme Court ruling legalized same-sex marriage throughout the country, IFEBP found that from 2014 to 2016, the percentage of employers providing benefits to same-sex partners in legally recognized civil unions fell from 51 percent to 31 percent. The report says that most states that previously registered civil unions stopped doing so after the court's ruling on same-sex marriage, although not all couples with civil unions have married.
In addition, comparisons of survey results indicate that the percentage of employers providing benefits to same-sex domestic partners also fell from 59 percent to 48 percent. While existence of domestic partnerships could be established by employees attesting that they share a common domestic life with their partner, some states and localities provided domestic partnerships registries.
Immediately after the Supreme Court ruling, IFEBP also found that 3 in 10 employers reported they were likely to discontinue providing benefits to same-sex domestic partners.
"Domestic partner benefits can be complex to manage, and by offering consistent coverage for opposite-sex and same-sex couples, employers are able to ease some of the administrative burden," Julie Stich, associate vice president of content at IFEBP, says in the report.
Most companies offer parity in workplace benefits for lesbian, gay, bisexual and transgender employees, according to Todd Solomon, a partner with McDermott Will & Emery in Chicago. In the report, Solomon is quoted saying, "Now that same-sex marriage is legal in all 50 states, most companies do not differentiate between types of spouses."
Still, Stich adds, "I wouldn't expect all employers to drop domestic partner benefits." She explains, "Competitive employers are always working to provide an inclusive benefits package, and offering domestic partner benefits can build a culture of inclusion and help the company attract the best talent."
Larger organizations are most likely to retain domestic partner benefits, IFEBP found, with 77 percent of those with 10,000 or more employees still offering health care benefits to both same-sex and opposite-sex domestic partners.