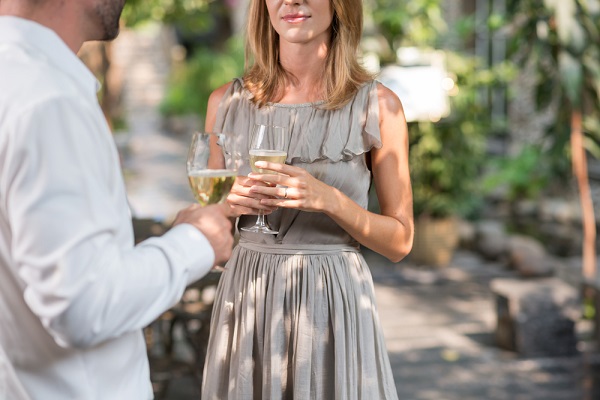 You've seen it all before. You're attending a wedding/funeral/birthday. You chat will a well-dressed stranger. They ask: "What do you do?" You say: "I sell insurance." They bolt.
Later, you learned all about elevator speeches. "I'm an estate planning specialist in intergenerational wealth transfer." It's smoother, but sounds scripted. They counter: "You're an insurance agent, right?"
Do you have any other options about what to tell people, to get them to talk a little longer?
Here are eight possible answers, and I'm sure you have ideas about others.
1. Excitement We were on a Mediterranean cruise. Table of eight. When a diner was asked that question, she said: "I'm a fine art dealer. But it's not as exciting as you think!" She stopped talking. She waited for the audience's reaction. The silence was filled with comments such as, "Wow!" and "What do you mean it's not exciting?"
Here's how a CPA I know handles this. He says: "Ever get one of those certified letters from the IRS? We take care of that kind of problem."
2. The assist
In some social situations, women are invisible. It's assumed they are raising the children or have a lightweight job. The men talk among themselves. One husband, married to a financial advisor answers: "I own the local hardware store. You should ask my wife that question. She's the one with the really interesting job!"
3. Volunteer work
It's rare the other person says: "What do you do for a living?" If you are at a museum event, you might say: "I'm a volunteer at the museum." They might be one too. They draw you out. If you think it's appropriate you later add: "My day job is…."
4. Draw others out
People like to talk about themselves. If their profession is already known, you might answer: "I'm a financial advisor at (firm). But tell me more about your job. It sounds really interesting."
5. Head 'em off at the pass
You've seen it before. You say: "I'm a financial advisor." They have already started to say "I have one" before you've even finished speaking. Try: "I'm a financial advisor at (firm). You probably work with a financial advisor already." When they answer yes, you are in the position to ask" "What do you like best about them?" or "Would you recommend them?"
6. Get them to ask
We often ask "What do you do?" when we meet a new person. It's an icebreaker. Try getting them to ask the question instead. For example, you walk up to the hotel bar, take a seat, order a drink and say: "At last, a chance to relax. This is my busy time of year." Stop talking. The person sitting alongside might say: "Why is it a busy time? What do you do?" You've gotten them to ask.
7. Play the officer card
You probably consider yourself an agent or advisor. Your business card might read "Assistant Vice President" or something even better. That's an officer title. It commands respect. Police are called officers. Banks have officers. The military does too. When you are asked the question you might say: "I'm an officer at (firm)."
8. Keywords
Here's an example of an answer that expands and contracts. It has two sentences. Design your own. You might use some variation based on one or both.
1. I'm an officer at (firm).
Rationale: You are playing the "assistant vice president" card. "Officer" commands respect. You've got your firm name out there too.
2. I work with a small group of successful business owners and families in the (your city) area."
Rationale: "Small" implies exclusivity. Most people identify with "successful." They also know most of the local wealth is in the hands of established business owners. "Family" implies family values, which you share. The city name lets them know you are part of the community. The fees you earn from them are recycled in the community when you and your family go out to dinner, the dry cleaner or the hardware store.
In 21 words you have said quite a lot. Most of it is by inference, as the "rationale" explains. They will likely want to know more, starting with; "What do you do for these business owners?"