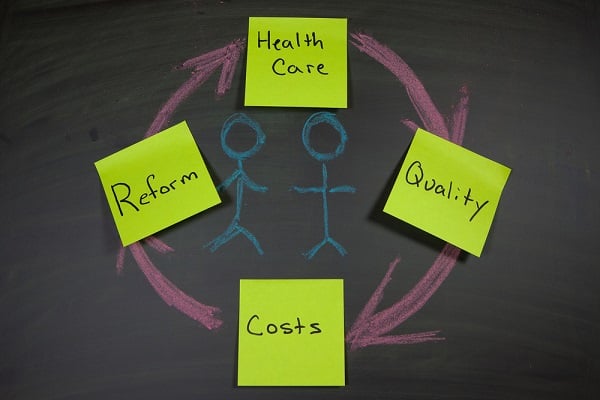 As midterm season edges closer, talk of health care reform once again gets louder. If Democrats have their way, we'll all be on the fast-track to a single-payer system. Meanwhile, Republicans are doing their best to undo the ACA.
All that political chatter, however, means very little to those who are already shouldering a significant share of the health care burden–employers paying for their employees' health insurance plans. Government regulation is slow to pass and slow to take effect. As such, employers have been busy finding their own solutions, making the entire health care regulatory debate even more irrelevant with each successful change.
Related: As costs rise, employers drive change in health care delivery
In an opinion piece written last week for Statnews.com, Rajaie Batniji, M.D., clinical assistant professor of medicine at Stanford University and co-founder and chief health officer at Collective Health, explores the reasons he thinks employer-sponsored health care has staying power, and why, in fact, he considers it a model for the future.
"As a doctor who has seen patients harmed by a lack of insurance or uncertain coverage, I support the idea that government-sponsored health insurance for all could be a promising alternative to our current system," Batniji says. "But as a practicing physician and researcher who looks at the politics and economics of changing our health care systems, I'm not going to put my eggs in the government's basket and wait for change to happen."
And that's more or less what we're seeing today–major companies taking the reins on health care, cutting out insurers in favor of direct-provider contracting, exploring alternatives such as direct primary care and onsite clinics–not to mention whatever grand ideas will come out the Amazon & Co. venture.
It's this more-active role employers are taking in the health care model that Batniji thinks will lead to real change in the system. He makes his argument based on four reasons:
1. A check on private insurance. "Over the last few decades, employers have kept our health insurance coverage and costs from spiraling out of control by leveraging their buying power," he says, noting the increase in the number of self-insured employers, which, despite the added risks offers increased stability for their medical spend.
2. Aligned incentives. Batniji touches on an argument all too familiar to health care payors these days: fee-for-service versus outcome-based models. Fee-for-service works well for health care providers as well as insurance providers, but not the employer.
"Employers are the exception," he says. "They have an incentive to achieve sustainable cost control since they pay directly for most health care costs. They aim to keep their employees for years, so they take a longer-term view than private insurers. And they know that providing better coverage is good for them in two keys ways: it gives them a competitive advantage and it gives them healthy employees, who are more productive."
3. Appetite for rapid change. Employers, for the most part, benefit from not being bogged down in red tape, Batniji says. And as with the other aspects of their business, employers are eager to embrace new technology and solutions to streamline health care for their employees and reduce costs.
"Employers now have a host of new solutions available to them, from delivering care digitally to measuring how programs are working, he says. "Employers tend to be the first adopters of new financial arrangements with health care providers that move them away from the fee-for-service structural misalignments toward paying for value in health care."
4. Controlling the conversation. Finally, Batniji points to businesses as the boots-on-the-ground when it comes to implementing new health care strategies. "The vast majority of health care policy decisions that affect working Americans are not made by health policy wonks," he says. "Instead, they're made by employers' human resources and finance teams who are turning to each other (and not to academics, to the dismay of many of my colleagues) to find better strategies for taking care of their people and managing their health care costs."
As employers (and their HR and financial teams and benefits consultants) take a larger role in controlling and reshaping how health care is delivered for their employees, the change will have a ripple effect across the entire health care landscape.
"Employers represent thousands of opportunities to get health care working better and to spread those improvements," he concludes. "Success stories on costs and outcomes in the employer-sponsored market offer examples to emulate."