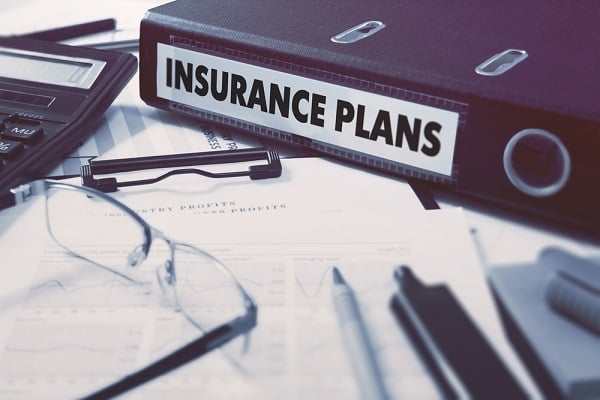 Covered California, the state's Affordable Care Act Marketplace, released a report on the potential national Health Cost Impacts of COVID-19. The report forecasts that commercial health insurers could see claims as high as $34 billion to $251 billion (Excluding any claims reductions from federal or state legislation) and that would result in health care premiums increasing between 4 percent to 40 percent in 2021.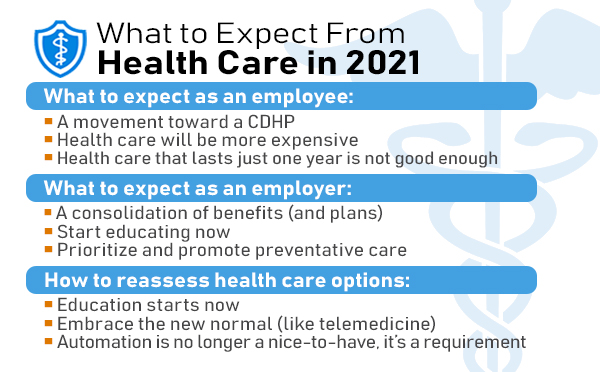 The good news is that since this report was published new legislation has been directed at managing these costs. However, an increase in health care spending seems likely. What is also likely is that these costs will be passed on through insurance premiums.
Related: Insurers offer free coronavirus coverage, but you might pay for it next year
The last few years may have felt like hurtling through an accelerated series of changes in health care. But they pale in comparison to the speed at which we are now moving. From premium increase to plan coverage changes, and a significant shift from traditional health plans to consumer-driven health plans, it's easy to feel overwhelmed.
What to expect from health care in 2021
While the question of where the industry is headed next is as uncertain as to when this pandemic will end, the expectations that health care costs and options will look different in 2021 are not. And employers and employees don't need to wait until open enrollment to find out. Below are a few ways to get ahead of the changes now.
What to expect as an employee
1. A movement toward a CDHP: A consumer-driven health plan's premium is lower when compared to a standalone PPO or HMO plan; on average, $776 less per individual employee plan per year. An example would be an HSA-eligible health plan, like a high-deductible plan (HDHP) coupled with a health savings account (HSA).
2. Health care will be more expensive: Even with help from employers, realistic economic projections make it clear that employees will have no choice but to absorb some of the premium costs. It's more important than ever to look for plans that provide the value and coverage you need, but don't force you to overpay for coverage you will never use.
3. Health care that lasts just one year is not good enough: Employees need a way to prepare for future health care expenses. Employees can use an HSA (with an eligible HDHP) to save tax-free dollars they can use for the rest of their lives for out-of-pocket health care costs. It's the only health savings vehicle that never expires and doesn't have to be renewed every year. This sets up employees beyond just one open enrollment.
What to expect as an employer
1. A consolidation of benefits (and plans): It's time to reassess what really matters, and define which benefits offerings are most important for employee retention and satisfaction. From this, expect to see a consolation of auxiliary benefits. This will increase the importance of the remaining benefits and increase the cost value of each individual benefit.
2. Start educating now: Health care coverage is top of mind. Health care costs will follow. There is no better time to educate and engage employees on their options, so they can make informed decisions when the time comes.
3. Prioritize and promote preventative care: The current COVID-19 pandemic took the world by surprise and is a perfect opportunity to help employees better understand the value of preventative care. And by value, we mean the long-term savings preventative care will create by lowering health care costs, and increasing peace of mind.
New health care and benefit approaches may seem daunting, but even in this squeezed economic climate, you have the ability to create a win-win situation. If executed correctly, you can put a strategy in place that will last for years to come.
How to reassess health care options
Health care is ever-evolving and now, and based on the expected COVID-19 impacts, costs are accelerating. Before you wait for the dust to settle, here are ways to approach your company's health care benefits strategy for 2021.
1. Education starts now: Health care (and related costs) are top employee priorities. Use this to help employees find the best plan, for this year and years to come. For example, employers and employees are learning that they can provide/receive the same or better care at a lower cost with a CDHP. In 2020, the average health insurance premium is $511 per month, while an HDHP, on average, is $323 per month. Compared to the most commonly offered PPO and HMO plans, an HDHP will save employees between $1,872 and $2,856 on premium costs each year.
2. Embrace the new normal (like telemedicine): Telehealth can boost an employer's revenue and help maintain a stable workforce while reducing health care costs. That's a win-win for both employers and employees. Telehealth provides employees short-term savings from the reduced cost of care, such as a reduction in emergency room visits, which can save $300 to $1,500 per occurrence. Employers can also find long-term savings from telehealth support for preventative care, treatment for chronic conditions, and mental health services. Based on recent legislative changes, for the first time, designing in telemedicine pre-deductible adds flexibility to maintain employees' savings while providing first dollar coverage for this service.
3. Automation is no longer a nice-to-have, it's a requirement: The concept of being remote for weeks at a time was unforeseen and unimaginable. What we can take away from these times is that your benefits systems and services need to work together and run smoothly each pay period, even if you can't be in the office. These simple, and often check-the-box requirements, are crucial elements to make sure employees get paid and the business can move forward.
Want some good news? Education, telemedicine, and automated technology are not new and are readily available in the market. Take this time outside of open enrollment to ensure these elements are part of your benefits offering.
Will other employee benefits be affected?
The 2008 recession directly influenced the movement of health care from more traditional plans like PPOs and HMOs toward HDHPs. Expect the same change in 2021. However, this will also be coupled with less than ideal benefits changes, like significant decreases in employer-matched 401(k) contributions. Where we go from there is the million-dollar question.
If there is one clear take away from the current situation, it's the need to plan ahead for the unexpected. Things that are completely out of our control will always arise, but employers can empower employees, to the best of their ability, to save for health care costs for this year and beyond. Find ways to structure your 2021 health care plans to create more control over health care costs and increased savings for employers and employees.
Shobin Uralil is co-founder and COO of Lively, a leading provider of health savings account.
Related: