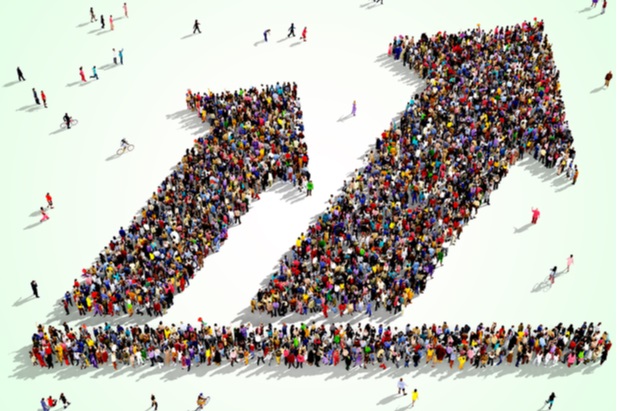 A mountain of evidence over the past two decades shows that workforce diversity leads to measurable improvements in financial outcomes. That's according to a recent report from The Center for Financial Planning, which explored the business case for diversity and inclusion in "Why Diversity Matters: How Workforce Diversity and Inclusion Accelerate Business Success in Financial Services."
Organizations that display two-dimensional diversity are especially likely to reap financial benefits, according to the CFP report. 2D diversity is defined as leadership that exhibits both inherent diversity — gender, race, age, religious background, socioeconomic background, sexual orientation, disability and nationality — and acquired diversity — cultural fluency, generational savvy, gender smarts, social media skills, cross-functional knowledge, global mindset, military experience and language skills.
The report pointed to four ways diversity translates to financial success:
1. More diverse customer base. Diversity helps companies serve a more diverse customer base because their employees are better able to relate to and serve those customers.
Black consumers have buying power of $1.2 trillion as of 2019, and their buying decisions are influential in the mainstream. Companies that appeal to this market have experienced rewards in the form of higher profits, said the report.
The LGBTQ communitiy has buying power of $917 billion. LGBTQ consumers pay attention to a company's commitment to diversity when making buying decisions and three-quarters of LGBTQ buyers said they are willing to switch to LGBTQ-friendly brands, according to the report.
Women hold tremendous buying power, accounting for 85 percent of all consumer purchases, determining 89 percent of decisions on bank accounts and owning 40 percent of stocks. However 84 percent of women said they feel misunderstood by investment marketers and cite a lack of respect, poor advice, contradictory policies and red tape as obstacles when dealing with financial institutions.
For companies that realize the value of reaching these powerful consumer groups, having a workforce that relates to and understands their needs, lifestyle and culture can provide a competitive advantage.
In addition, diverse workforces are more likely to be able to identify trends and new market opportunities that will appeal to a wide range of consumers from different demographic groups.
2. Larger talent pool for recruiting. Diversity helps companies recruit the best available talent. The obvious advantage of recruiting with diversity in mind is that organizations have a larger talent pool from which to select employees. About two-thirds of job seekers consider a company's commitment to diversity when making an employment decision.
Diverse recruiting also leads to other advantages, according to the report. A commitment to diversity aligns with the values of younger candidates, and current employees of diverse employers are more likely to recommend their firm to others interested in working for firms that make diversity and social responsibility a priority.
On the other hand, employees who experience discrimination at work tend to be vocal in discouraging others from considering job opportunities with their employer.
3. Retain talent. Diverse companies are more likely to retain talent, and retaining talent has a direct financial correlation. According to the report, better job satisfaction among employees at diverse firms leads to a 'virtuous cycle' of retention, less spending on recruitment, improvements in bottom line results, and greater profitability.
On the flip side, companies that do not have good diversity experience more employee turnover which adversely affects the company's bottom line. Turnover-related costs to find, hire and retrain employees costs time, money and resources that are better directed to primary business operations. According to the report, it can cost up to $10,000 to replace a departed employee and up to $211,000 to replace an executive.
Even when turnover does not occur, a lack of diversity has been shown to lead to lower productivity, higher absenteeism, and physical and mental health issues among employees.
4. Greater possibility for innovation. Diversity fosters innovation, creative decision-making and a willingness among employees to take risks and challenge the status quo.
Homogenous teams tend to fall back on known solutions and think more superficially, according to the report. Diverse teams are more likely to think outside the box and take into account their common experiences with end users.
In addition, less-experienced diverse teams are more likely to be able to solve complex problems than more-experienced homogenous teams, according to the report.
Kristen Beckman is a freelance writer based in Colorado. She previously was a writer and editor for ALM's Retirement Advisor magazine and LifeHealthPro online channel. She also was a reporter for Business Insurance magazine covering workers compensation topics. Kristen graduated from the University of Missouri with a degree in journalism.
READ MORE: