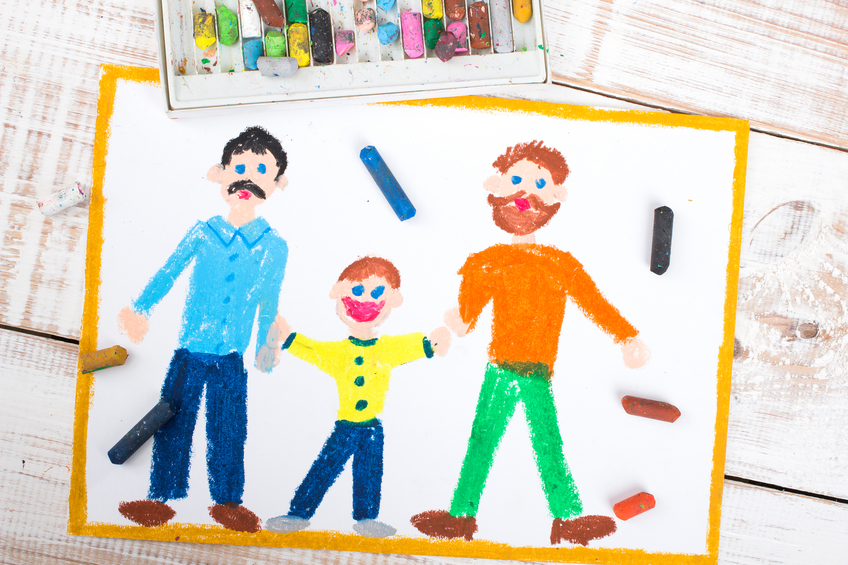 Earlier this week, Donald Trump unveiled his plan for six weeks of paid maternity leave. Given the GOP's avoidance of the issue, it seemed like the right step forward for the candidate, who hasn't done favorably with female voters.
Soon after, Trump's daughter hit the campaign trail to make her father's case for the new child-care and maternity leave policies. In an interview with Cosmopolitan, Ivanka shared some further details of the plan, including:
"So [the maternity leave policy] is meant to benefit … the mother who has given birth to the child if they have legal married status under the tax code."

"The original intention of the plan is to help mothers in recovery in the immediate aftermath of childbirth."

"The plan, right now, is focusing on mothers, whether they be in same-sex marriages or not."
Ivanka cut the interview short after saying the reporter's line of questioning was filled with "negativity." Given her statements, I have a few questions myself for Ivanka and Mr. Trump.
First, let me cut to the chase and say what so many were and are thinking: Paid maternity leave is no longer novel — paid parental leave is.
As of 2014, the International Labour Organization said 185 countries and territories have parental leave policies.
The hold outs? Papua New Guinea has no laws mandating any type of parental leave — including maternity. Two countries do not require employers to provide paid time off for new parents: Lesotho, a southern country in Africa where 40 percent of the population lives under the international poverty line of $1.25 a day, and the United States.
If that alone doesn't illustrate the abysmal state of parental leave in our country, let me put it like this:
Burkina Faso offers fully paid maternity leave for 14 weeks, and fully paid paternity leave for two.

Venezuela offers 26 weeks of fully paid maternity leave and two weeks of fully paid paternity leave.

Iran gives 24 weeks of fully paid maternity leave and two weeks fully paid paternity leave.

Slovenia — the home country of Melania Trump — offers 15 weeks of fully paid maternity leave and 12 weeks of partially paid (80 percent) paternity leave.
From Ivanka's statements, one can deduce that unmarried mothers won't benefit from Donald Trump's maternity policy, a fact that marginalizes millions of mothers across the country.
In 1960, Trump's plan may have been welcomed by women, a year when only 5 percent were unmarried mothers, but it's not 1960.
According to 2014 data from the CDC, 40.2 percent of all children were born to unmarried women. That's 1,604,870 children that would've been disallowed the benefit of the "critical bonding" between mother and child Ivanka says is the impetus behind her father's maternity leave policy.
Moreover, the idea that women have to be wives before they can be mothers further reinforces antiquated gender roles and values that are not indicative of today's family model.
In an article about the growing use of artificial insemination, Mercury News reports that an estimated 50,000 women a year start families on their own (take this number with a grain of salt; the fertility industry isn't obligated to keep statistics on this kind of stuff). Between 10,000 and 12,000 single women visit sperm banks each year, disavowing the concept of a husband-wife dynamic for childrearing. Although these women would carry and give birth to a child, without a spouse, they aren't exempt mothers under Trump's new policy.
If a person decides to take a different route — adoption — to expand their family, Trump's plan is making a hardline statement against those folks, too: You're not real parents.
While his website includes adoptive parents in his child-care policy, they aren't accounted for in his maternity leave clause. As Ivanka said, the six weeks is exclusively for "mothers in recovery in the immediate aftermath of childbirth."
Trump and his surrogates might tout this plan as unprecedented, but it's actually retrogressive. It's not even in line with the 1993 Family and Medical Leave Act. Yes, FMLA only provides unpaid leave, but it is available for mothers of both biological and adopted children. Trump's plan forgets the latter.
In 2008, the total number of adoptions exceeded 135,000. But it's not just heterosexual parents that are adopting.
Because of the restrictive nature of Trump's paid leave policy, LGBT couples — specifically same-sex male couples — would most likely get the shaft if Trump's plan becomes law.
First off, LGBT adults — both men and women — don't see marriage as a necessity for childrearing, so says data from Pew Research. Only 28 percent of all LGBT adults say raising a child is a good enough reason to get married. But for the Trumps, that slip of paper is essential if you want six weeks of paid leave.
Same-sex couples are four times more likely than heterosexual couples to raise an adopted child, and six times as likely to raise a foster child. According to a 2013 study from the Williams Institute on LGBT parenting in the U.S., more than 16,000 same-sex couples are raising an estimated 22,000 adopted children in America. Again, the Trump plan doesn't see this as "good enough" for his leave benefit.
While same-sex female couples can carry a child (biologically speaking, I'm not presuming to know about issues with infertility, personal objections to pregnancy and/or childbirth, or other various reasons women chose alternative family methods), that isn't an option for men, regardless of sexual orientation. This biological void alone disqualifies them from Trump's leave policy.
Pew Research says 23 percent of LGBT men are already fathers. Gary Gates, an expert on LGBT demographics at the Williams Institute, says there is an estimated 40,000 gay male couples in the U.S. raising children. But under Trump's policy, they aren't parental enough to enjoy much-needed time with their new addition following adoption or surrogacy.
To those that make the argument that Trump's plan is "better than nothing" — a statement made by Ivanka and a sentiment shared on Trump's website — that's simply not true. Plenty of employers, states, and cities have taken paid parental leave into their own hands.
Need proof? Here are a few articles BenefitsPRO has written on entities that have implemented their own policies for working parents, whether they be female, male, adoptive, biological, heterosexual, or homosexual. (Let me know if you notice a trend.)
This plan doesn't empower women; it pigeonholes them into an outdated idea of what they should be, both at work and at home, all while disenfranchising the millions of others who work hard to provide for their family regardless of how they came to be one.
Trump can say his plan is innovative and contemporary, but no matter how hard his modern-age daughter peddles it, Trump's maternity leave policy is archaic. Parental leave is the way of the future, and Trump's plan is just a watered-down consolation prize for working, married, fertile women.
Being in this exclusive group, I should be excited, but all I can think about is how so many great parents won't fall in line with Trump's definition of "parent." If this plan becomes law, these people won't get what I'll get — and that's not right. Benefits shouldn't just be for a lucky few; any benefits manager knows that.
My question to you all — the brokers, HR managers, employers, benefits professionals, and readers of BPro — is what parental leave should look like in this country. I sincerely want to know, so tell me. Sound off in the comments below.