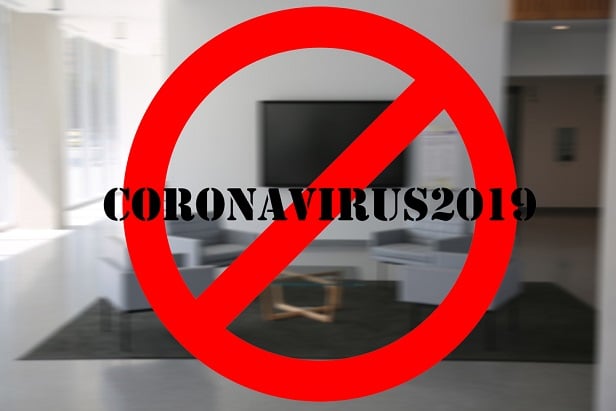 We're seeing many products and services related to the coronavirus and employee benefits, human resources, health care and general business. Here's news that's crossed our desk as of the last few days, related to such diverse tools as on-hold messages, telepsychiatry, health insurance, messaging apps, commuting solutions, remote work, self-screening tests, and even a 3-D printable hands-free door opener:
Yext announced that it is offering for free its new site search product, Yext Answers. The company says that for a 90-day period, eligible businesses across industries will be able to transform their website into a search engine capable of answering consumers' COVID-19 specific queries in real-time.
XRHealth announced Virtual Reality (VR) telehealth support groups for people in isolation due to the coronavirus, where patients with similar ailments can gain support from each other and from doctors associated with the XRHealth telehealth clinics. XRHealth clinics are now certified in Boston, Connecticut, Florida, Michigan, Washington D.C., Delaware, California, New York, Texas, North Carolina, and many others and are covered by Medicare and most major insurance providers. XRHealth will make the technology available sooner than originally expected, starting April 1st. XRHealth support groups are tailored for patients with conditions including Multiple Sclerosis, Parkinsons, breast cancer, anxiety, chronic pain, substance abuse and more. There will also be a general support group for the elderly population that is most impacted by the coronavirus.
Waterfall Security Solutions announced it is making free Remote Screen View product licenses available to customers whose vendor personnel or key employees are no longer able to travel to industrial and critical infrastructure sites. Remote Screen View sends real-time images of industrial workstations to a web server that remote vendors can access. Remote personnel use these real-time visualizations to provide real-time advice to personnel with access to the industrial site, in order to maintain, diagnose and repair vital industrial equipment, software and configurations.
Vivify Health announced the availability of new COVID-19 Screening, Self-Isolation and Monitoring Pathways for its Vivify +Go mobile solution. The Screening Pathway aims to enable low-risk patients or those with mild symptoms to use their mobile devices to self-screen for COVID-19 by answering a series of questions that follow current CDC guidelines. Vivify Health is offering unlimited use of the COVID-19 Screening pathway to providers at no cost, along with deeply discounted and rapid deployment to providers new to the Vivify Pathways platform.
Unlimited Biking is launching its "Ride It Out" Program as an alternative to public transportation. In an effort to reduce the transmission of this virus, Unlimited Biking is offering reduced rates on long-term rentals in the place of a monthly metro card within the areas of New York City, San Francisco and Washington D.C. Riders who choose to use Unlimited Biking as their commuting alternative have the flexibility of taking the bike back home or picking up/dropping off their bike at any of their locations within New York City, San Francisco and Washington D.C. Riders are also provided a helmet and lock at no additional cost.
SANS Security Awareness, a division of the SANS Institute, has created the "Securely Working from Home" Deployment Kit. This free kit provides security awareness professionals with a step-by-step guide on how to rapidly deploy a training program for their remote staff. All training materials and resources necessary to secure a remote, multi-lingual workforce are included in the kit, including videos, infographics, podcasts, newsletters and digital signage in multiple languages. To help security awareness professionals, a live webcast will be held on Tuesday, March 17th at 5:30 p.m. EDT.
Quinyx announced it is providing free access to its communication module and mobile app for any organization needing to support communication between employers and employees, especially deskless employees. Its Qmail tool uses an app and does not require a company email account; notices can be sent via the mobile app by direct or mass messages to all employees. Its Pulse feature can gauge how employees are doing via survey questions that appear as a push notification on the mobile app.
Pulsara announced the release of a COVID-19 management package available to all EMS and health care organizations in the United States for free. Clinicians can use the mHealth Pulsara communication platform in several ways to help their teams manage patients with the severe acute respiratory syndrome coronavirus 2 (SARS-CoV-2). During the pandemic, Pulsara for COVID-19 is free for teams using the platform for ANY combination of these goals: 1) Mitigate Patient Surge; 2) Interfacility Communications; 3) Limit Exposure to Clinicians and Other Patients; 4) Limit Repeat Clinician Exposure AND Conserve Personal Protective Equipment; 5) Secure Outpatient Medical Isolation (Quarantine) Communication.
PruittHealth aims to combat the potential feelings of isolation and loneliness for its skilled nursing facility residents. Beginning at noon Monday, March 16, family members wishing to schedule video chats with their loved ones in any PruittHealth facility in any state can call the PruittHealth Emergency Operations Center at 1-855-742-5983 to do so. Appointments will be available as soon as Tuesday, March 17. Additionally, it is asking the general public seeking to participate in acts of kindness for the elderly to send cards, a short greeting or video, an illustration, or "Thinking of You" notes to the email address [email protected]
Oscar launched a testing center locator for COVID-19 in the U.S., featuring more than 100 centers. It is accessible to the general public and more testing centers are being added every day.The testing center locator is the latest update to the tools Oscar is developing in response to member needs as the outbreak evolves. The tool builds on the insurer's at-home risk assessment survey, also launched, which assesses your risk of contracting COVID-19 to develop your personalized care guide.
OnHold.com is offering complimentary downloadable music on hold messages. The messages are available at www.onhold.com. These informative on-hold messages aim to help businesses get the word out regarding guidelines for living and working within the uncertainty and anxiety of the Coronavirus COVID-19. The information contained in the on-hold messages is disseminated from trustworthy resources such as the Center for Disease Control and Prevention (CDC), World Health Organization (WHO) and Small Business Administration (SBA).
Materialise has designed a 3D printed door opener that makes it possible to open and close doors with your arm, removing the need for direct contact with door handles. The company says anyone with access to a 3D printer can download the design and 3D print it locally in a matter of hours. The file can be downloaded at the company's website.
Orbit Health Telepsychiatry announced its Community Leaders Support Initiative (CLSI). This program was developed to provide rapid access to mental health services for community leaders at the forefront of the COVID-19 (coronavirus) response. These services are free of charge for a limited time for community leaders and their immediate families (terms and conditions apply). Qualifying CLSI participants will have prompt access for assessment and treatment of conditions such as depression, anxiety, and bipolar disorder.
OpenWater announced the release of their COVID-19 Emergency Guide that shows how to quickly convert a physical conference to a virtual conference as the coronavirus continues to impact conferences, events and meetings.
LiveSafe announced it is making a free, limited version of its safety and two-way communications App, as well as the platform's Command and Communications Dashboard, available to any business, college, university or health care institution that needs an effective means for employees or students to anonymously communicate their concerns and receive important information about the coronavirus. The COVID-19 Safety Resources App will enable members of an organization's workforce or student body to engage in two-way communications with their COVID-19 coordination or response team.
HR Acuity announced that it would provide a free version of its SaaS solution to help businesses manage employee issues related to the Coronavirus (COVID-19) outbreak. The limited edition provides employee documentation and tracking functionality that will equip businesses to monitor the people impact of the crisis. For COVID-19, it enables HR and employee relations teams to document and track any and all issues related to the outbreak, including performance management, accommodations, allegations of discrimination or harassment and more; implement consistent issue tracking and reporting for all employees, including work-from-home; follow a compliant process to ensure fair fact-finding, when required, and more. The limited edition will be available through at least July 1, 2020 to businesses with more than 100 employees.
Higher Logic announced it will offer Event Engagement for free to current and prospective customers facing the challenge of delivering meaningful experiences and engagement during the health crisis of the novel coronavirus (COVID-19). Leveraging its human-focused engagement platform, Higher Logic will support virtual events to assist in driving engagement and connection for attendees. This program is being provided at no charge to anyone with events scheduled from April 1st to December 31st of 2020.
Health Recovery Solutions announced the launch of COVID-19 telehealth clinical pathways. HRS' Clinical Advisory Board developed the COVID-19 clinical pathways, which consist of a COVID-19 screening tool, symptom surveys, custom education, and accompanying clinical best practices on symptom survey cadence and video visits. The goal of the clinical pathways is to equip HRS' 200+ clients with the tools they need to deliver care to their patients at home. HRS customers have access to the pathways on all tiers of the platform, including PatientConnect Mobile, HRS' Bring Your Own Device (BYOD) solution (available on iOS and Android).
Gulf Guaranty, a Mississippi based life and health insurer, has announced that its MedPlus secondary health plans will cover all patient portions for prescribed Covid-19 tests for covered employer groups. This coverage will not be subject to any deductible amounts or copays.MedPlus plans cover 50,000 group health plan members in Mississippi, Louisiana, Alabama, Tennessee, Arkansas and Texas.
GeoBlue announced the following resources are available to members enrolled in its fully-insured plans. Self-funded plans will be able to opt-out of this program. GeoBlue will cover, with no cost-share to members, medically-necessary, prescribed diagnostic testing for the COVID-19 virus, consistent with CDC guidelines. It includes the cost of the COVID-19 test, physician/doctor consultation fee and associated costs related to administering the COVID-19 test. It will waive prior authorizations for medically-necessary, prescribed tests and covered services related to COVID-19, consistent with CDC guidelines. Global TeleMD is available to GeoBlue's corporate, scholastic and individual enrolled members at no additional cost. For a limited time, it is expanding access to Global TeleMD to Blue Cross Blue Shield Global Traveler members as well. The above actions apply to all plans with medical benefits underwritten by 4 Ever Life Insurance Company or 4 Ever Life International Limited.
Evolve IP announced that it is offering its Collaboration and Workspaces services to businesses for free, enabling employees to work from home during the Novel Coronavirus outbreak. Additionally, for businesses in need of a business continuity solution that includes collaboration with voice services and access to on-premises applications, the company is providing its services on a month-to-month basis. The offer is available to any new business with more than 100 employees.
eVisit announced its offering VirtualED—a preconfigured workflow of its platform that's specific to coronavirus—to hospitals free of charge through July 31, 2020. This configuration of the eVisit platform enables hospitals to screen for COVID-19, triage patients to the appropriate care setting, and treat COVID-19 and non-emergency patients virtually. As part of this offering, hospitals get eVisit's VirtualED software subscription for free through July 31, 2020, quick-start deployment, preconfigured ED triage workflow, COVID-19 intake screening form based on the latest CDC recommendations, eVisit web and mobile applications, and unlimited patient usage. 1-844-693-8474 or email [email protected]
Cigna will waive customers' out-of-pocket costs for COVID-19 testing-related visits with in-network providers, whether at a doctor's office, urgent care clinic, emergency room or via telehealth, through May 31, 2020. This includes customers in the United States who are covered under Cigna employer/union sponsored group insurance plans, globally mobile plans, Medicare Advantage, Medicaid and the Individual and Family plans. Employers and other entities that sponsor self-insured plans administered by Cigna will be given the opportunity to adopt a similar coverage policy. Cigna has also opened a 24-hour toll-free help line (1-866-912-1687) to connect people directly with qualified clinicians who can provide support and guidance. Additionally, the company will offer a webinar to the general public raising awareness about tools and techniques for stress management and building resiliency, along with the ability to join telephonic mindfulness sessions.
Capital BlueCross announced it is offering free medical Virtual Care visits for members who currently have the Virtual Care benefit. The waiving of fees will be effective March 13 through April 15, 2020. Capital BlueCross Virtual Care connects patients with a medical professional by smartphone, tablet or computer in real time 24 hours a day, seven days a week. The free Virtual Care visits apply to medical services only; nutrition, counseling, and psychiatry visits will incur normal fees. Virtual Care is available to Capital BlueCross' members with Individual PPO, Medicare Advantage, and CHIP coverage. While most Capital BlueCross members with employer-sponsored group coverage have the Virtual Care benefit, members need to check with their employer or review their plan benefits to determine whether Virtual Care is included with their employer's program. Members of the general public or those otherwise not covered by a Capital BlueCross plan may take advantage of discounted telehealth visits through the Capital BlueCross Virtual Care app. The fee for a non-member is $59 for a medical visit.
Bluestream Health announced its free telemedicine solution to health professionals dealing with COVID-19. Bluestream's virtual care solution is HIPAA-compliant and requires no downloads, account setup or commitment. All providers need to do is enter their name and email address, and then they can invite patients to a video session via email or text.
Benefitfocus announced it will offer its customers access to a resource center devoted to the coronavirus and its impact on their benefits-related operations and communications. The COVID-19 Resource Center consolidates government data, proprietary information, communications tactics and tools, a community forum, and access to third party sources in a single location to provide customers with timely information, insight, and shared experiences to help deal with the pandemic. Benefitfocus also announced it has added functionality to identify and monitor the newly added ICD-10 code for COVID-19 to its claims data analysis solution.
Augmentir announced the free use of its Remote Assist support and collaboration tool for the remainder of 2020 to help industrial companies address the growing workforce and supply chain disruption. Companies that sign up will have access to the following features: Stream live video and audio to remote experts; guide field technicians and customers with live annotations for enhanced collaboration; support remote users on their existing devices as well as AR-enabled smart glasses.
READ MORE: